Instagrammable evening on the Lower East Side | New York City
New Yorkers share their perfect day so you can find yours.
created by | Nora
transit | walkable
distance | 0.7 miles
est. transit time | 17 minute walk end to end
Whether you're an instagram lover or hater you've inevitably wondered where do people find all these places that look so beautiful?? This guide brings together a few of my favorite spots on the Lower East Side. In addition to being amazing destinations for food, sweets and a drink, they are all also super instagramable.
Kiki's
$$ Simple Greek fare such as seafood & lamb served | Cozy warm space with exposed-wood beams
130 Division St, New York, NY 10002 (near Orchard)
(646) 882-7052
Kiki's is cozy rustic spot on the lower end of the Lower East Side. If you didn't know better you'd think you were walking into a Chinese restaurant. The Chinese letters on the awning are a nod to the Chinese supply shop that was located here before Kiki's opened about three years ago. The restaurant is named after one of the three owners and has become known for it's no nonsense Greek food served in a rustic wooden tavern style space.
Morgenstern's Finest Ice Cream
$ Modern ice cream parlor serving up whiskeys & other liquors
2 Rivington St, New York, NY 10002 (near Bowery)
(212) 209-7684
Website
After diner, stroll north on Orchard street. It'll be about a 10-15 minute walk past Grand and past Delancey but it will be well worth it. Morgenstern's is that kind of new old place. It's a newer ice cream shop that captures an older time period. From the simple decor to the classic menu it's a treat.
Freemans
$$ American fare, craft cocktails | Colonial tavern decor in hidden-away spot
Freeman Alley, New York, NY 10002
(212) 420-0012
Website
If you're still feeling the vibes of this insta evening there is one more spot that will certainly delight. Checkout the incredibly quaint Freemans. In addition to be a great restaurant and tavern this little restaurant tucked away on it's own "Freemans Alley" is made to be photographed. You can grab a seat at the bar and enjoy a night cap in style.
Looking for a hotel near this guide? Book a stay at The Ludlow Hotel
4 Star Hotel | rooms $300 - $400/night
180 Ludlow St, New York, NY 10002
(212) 432-1818
See additional hotels in the neighborhood
Your perfect day is waiting
Subscribe for the latest guides from locals and access to personal travel recommendations, for free.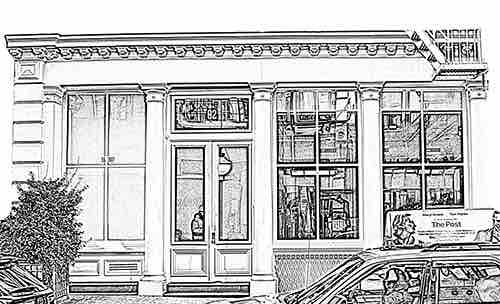 Explore more guides downtown
Discover the top guides in NYC